gallery
exhibitions
about lynn
contact
home
Background
- In my twenties and thirties, a modern languages degree lead into a career in management consultancy training with one of the leading London consultancies.
Later, whilst bringing up a family in Sussex, working part time allowed me to renew an earlier love of sculpture. I have been privileged to develop my skills with some outstanding mentors and professionals. Now with my own studio, sculpture has become a second career.
Current Work
– Much of my work is inspired by natural, organic forms and the elements. As I try to find their essential energy and expression, my sculptures often take on a life of their own, assuming varying degrees of human gesture and emotion. At other times, I look directly to the human figure, but remain fascinated by the search for abstraction rather than representation.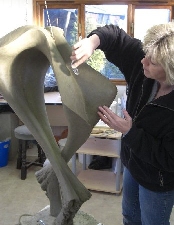 My sculptures are largely about mood and movement. This may result in a gentle flow of line and planes, reflecting quiet contemplation, or perhaps more energetically trying to capture the boisterous 'joie de vivre' of dancing forms or the movement of a soft breeze. The degrees of abstraction often leave room for your own interpretation.
The strong, dramatic shapes are sometimes resonant of earlier 20th century traditions, but with a lighter, more modern twist, and uplifting energy which can be timeless in appeal.
Method
- I work with a variety of clays from smooth terracotta to heavily textured brick clay, sometimes incorporating wood and other materials. Most usually, I cast the final sculptures in my studio, using a variety of metal resin and acid finishes and I thoroughly enjoy controlling the full production process from creation to presentation. I also have work produced for me in foundry bronze.

All my work is suitable for indoors or outdoors. Outdoors you should expect some slight changes in patination over time, particularly with foundry bronzes. If required, I can provide green oak plinths on a black steel base (see photo's) for siting in the garden. The oak will gradually mature to a beautiful silver grey colour with natural cracking which enhances the character of the wood.